Being Salman by Jasim Khan
R

aising a toast — with an empty glass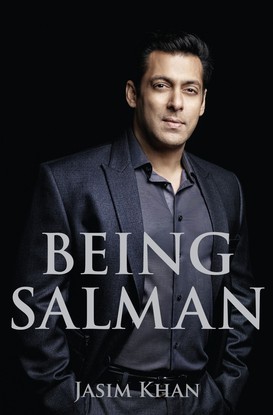 If you ever wanted to know what the real Salman Khan is like, then it's unlikely that you will be so enlightened by reading this book, Being Salman, written by Delhi-based journalist, Jasim Khan. If, however, you are a true venerator of the star and want to read unending paeans to his perfection, then do pick up this book, because the author has set out to prove that Salman is the asli bhaijaan of Bollywood — generous to a fault, honest, warm, simple — the complete family man.
The aim of the book seems to be a long justification of the 'bad boy of Bollywood' who happens to have a heart of gold, in spite of his episodes of rage and displays of temperament — 'Some people rub him the wrong way even when he does a good deed. His profession is full of vicissitudes. This adds to his short temper. However, it is only momentary.' 'Sangeeta Bijlani saw a chaste and sensitive human being in Salman Khan and soon they became close.'
While all of that could be as it may, but Jasim Khan must realise that it takes more than just reverence to create a book that's readable and interesting. With the sort of life Salman has lived, it seems a shame that the greys have not been portrayed as well as the angelic golden hues. If we compare the book to a recent biography on the superstar Rajesh Khanna titled Dark Star: The Loneliness of Being Rajesh Khanna by Gautam Chintamani, where the author hypnotised the reader to peruse the pages that described the life of the superstar who lost his sheen because of his flawed judgments, Jasim Khan's account of Salman's life emerges as a rather drab read. And that is a great pity!
A big section in the beginning of the book is dedicated to Salman's forefathers — the author wants to convince us of Salman's lineage, using many words and random pieces of information to do so. Rather tedious, since it doesn't add much to the narrative. The author's conclusion, however, is: "Therefore, Salman Khan is an Afghan, a Pathan, a Pashtun and a Khan all at once."
However, that may be the only new thing that the reader learns about the life of the superstar. Every other piece of information is already in the public domain. This could be because the author had no access to interviews or conversation with Salman or his brothers, Arbaaz or Sohail, though Salim Khan, their father does have a few insights to give.
What is it in his character that makes Salman go from one seemingly committed relationship into another? Are the allegations of abuse true? What are the superstar's motivations and his fears? What are the episodes in his life that have made him the man and the star that he is? Basically, what makes him tick? The readers definitely want to know the man behind the myth, but if they are looking for answers in these pages, they are likely to be disappointed. While the details of the blackbuck case, the hit and run case (in which he has been recently absolved), the NGO — Being Human — and his blockbuster films have been painstakingly described, but there's nothing that we don't already know about how they have affected Salman or changed his life or perspective.
It's a dull fare but perhaps diehard fans of Salman would like to possess a copy of the book. There are plenty of pictures that maybe of interest.
This review appeared in the Tribune:
http://www.tribuneindia.com/news/books-reviews/raising-a-toast-with-an-empty-glass/207998.html
Categorized as Book Reviews